See What Unfolds..
Trident recently put together Steve Aoki and the legendary Duran Duran to produce a remix of Hungry Like the Wolf, below (click to play).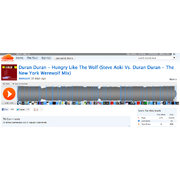 Trident is interested in finding out what your favorite music collaborations are–or what collaborations you'd like to see.  They'd also like to award one of my readers with a year's supply of Trident gum…
So join in the conversation…add your ideas or favorites for collaborations in music. A winner will be chosen at random on Sunday, October 7th, after 6:30pm (Pacific time).
Here are my thoughts:
Top song remake collaboration: Aerosmith and Run-DMC – Walk This Way
Top collaboration band (also most underrated): Traveling Wilburys
Top collaboration band runner-up: Damn Yankees
Top collaboration thought: I'd love to see Trans-Siberian Orchestra team up with almost anybody, especially on one of their Christmas concerts, which are AMAZING.
What say you? What are your ideas?
–S.
Content and/or other value provided by Trident.
Trident recently put together Steve Aoki and the legendary Duran Duran to produce a remix of Hungry Like the Wolf, below (click to play). Trident is interested in finding out what your favorite music collaborations are–or what collaborations you'd like to see.  They'd also like to award one of my readers with a year's supply…